Welcome! We are the Parallel Programming Laboratory.
Our goal is to develop technology that improves performance of parallel applications while also improving programmer productivity. We aim to reach a point where, with our freely distributed software base, complex irregular and dynamic applications can (a) be developed quickly and (b) perform scalably on machines with thousands of processors.
Processor virtualization is one of our core techniques: the programmer divides the computation into a large number of entities, which are mapped to the available processors by an intelligent runtime system. This separation of concerns between programmers and the system is key to attaining both our goals together.
Predicting Application Performance using Supervised Learning on Communication Features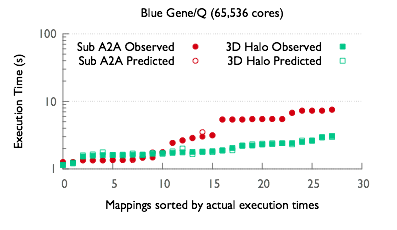 Task mapping on torus networks has traditionally focused on either reducing the maximum dilation or average number of hops per byte for messages in an application. These metrics make simplified assumptions about the cause of network congestion, and do not provide accurate correlation with execution time. Hence, these metrics cannot be used to reasonably predict or compare application performance for different mappings. Recently, we have attempted to model the performance of an...